Bob Kennedy Memorial Match
Report by Martin Symons
Camborne President's XV 7 – 5 Camborne School of Mines
Camborne narrowly prevailed in an evenly contested clash with the Students in front of a good sized crowd at the Recreation Ground.
The hard fought encounter proved to be a fitting renewal of the Bob Kennedy Memorial match after several seasons absence and marked 40 years since the inception of the contest in 1980.
Courtesy of sponsors Strongbow Exploration and with the generous support of a host of CSM alumni an excellent celebration event for more than 100 guests followed proceedings in a packed 'Town' bar at Crane Park.
On the pitch the Cherry & Whites led 7-0 at the break after skipper Dean Pascoe sent centre Oakley Smitham over near the posts for scrum half Luke Martin to add the extras.
In the 2nd half the School hit back with an unconverted touchdown from wing Charlie Wren.
Late on Camborne had to dig deep in defence to keep their line intact securing the spoils when fly half Pascoe gleefully booted the ball to the safety of touch.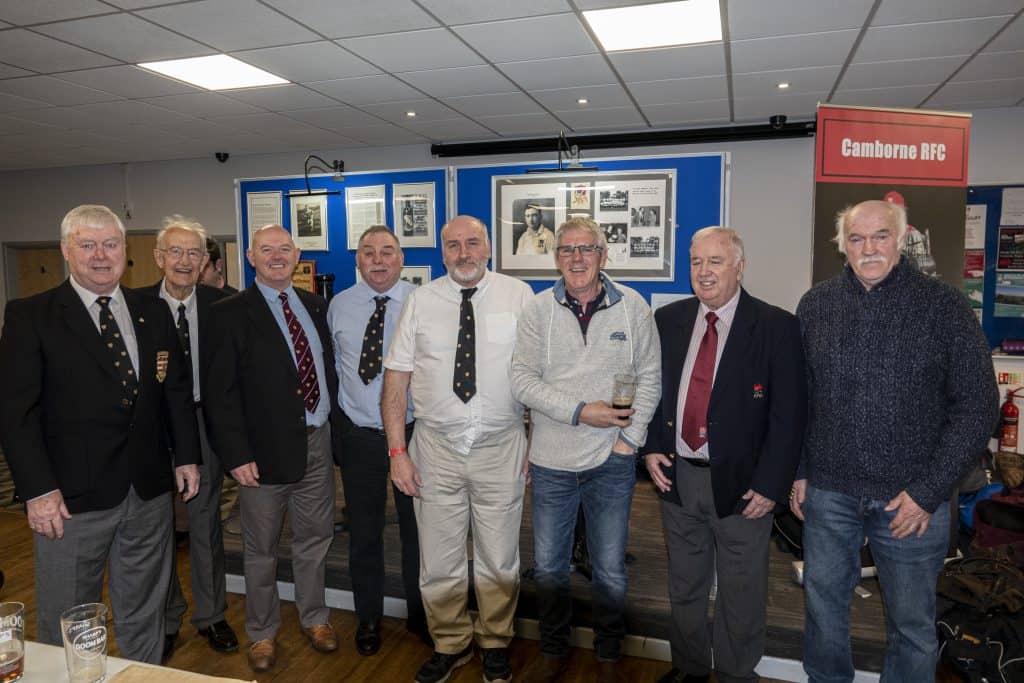 Reunited 40 years on from the inaugural Bob Kennedy match are six members of Camborne's team and two of the match officials. (left to right) Derek Taylor, Merrill Clymo (touch judge), Stephen Rogers, Martyn Hendra, David Richards, Jon Bowden, David Martin (referee) and Nigel Tregenza. Picture Steve Mock.