CAMBORNE & CRAWSHAY'S – A CONNECTION STRETCHING BACK 99 YEARS
On Saturday 30th April Cornwall take on Crawshay's as part of the Welsh Invitational Club's centenary season celebrations at Camborne (3.00pm kick off).
There can be no more fitting venue for this fixture than the Recreation Ground as the Cherry & Whites' relationship and shared history with Crawshay's stretches back some 99 years.
Where did this relationship begin?
In Spring 1922 the Camborne 1st XV travelled to Plymouth to take on Devonport Services. On arrival the match programme contained a reminder to the home supporters that rugby visionary Captain Geoffrey Crawshay was to bring a Welsh International XV to Devonport to play its inaugural match on Saturday 22nd April.
Spotting an opportunity to add an attractive fixture to the calendar a Camborne official enquired whether contact could be made with Captain Crawshay to extend the visit to take in an extra match should they return in the following season.
The rest as they say is history and on Monday 23rd April 1923 the 2nd annual Crawshay's tour was to include a match against Camborne. This was to continue in an extraordinary run of 32 fixtures taking place every year (excepting an enforced break of 11 years spanning the 2nd World War & post war period) up to and including September 1964.
Camborne 13 – Crawshay's 20 – Monday 23rd April 1923
Pictured below in this grainy image are the home players and officials on this historic occasion.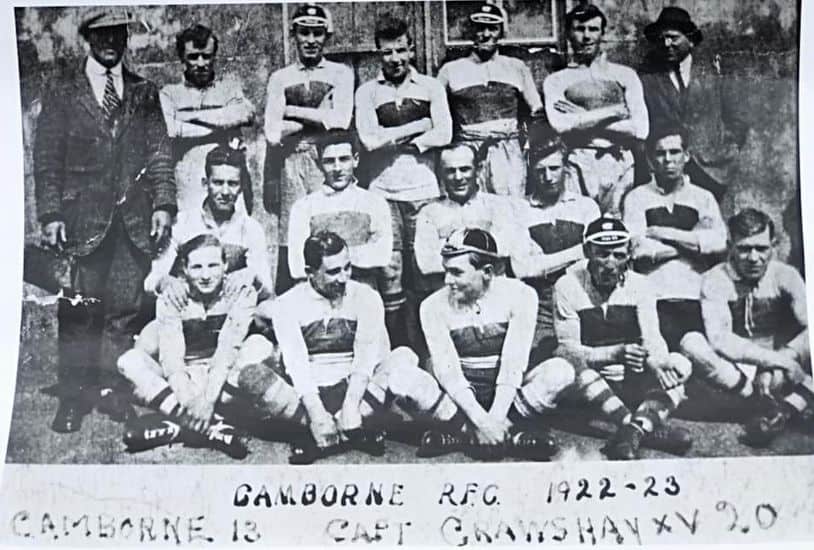 For the record books the Camborne line up was G. Rogers, R Parnell, L Hammer, P Collins, A Gregor, R Hamblin, J Adams, W T Warren, J Laity, J Carter, G Thomas, F Lee, L Clymo, W Mayne, C Clymo.
It should be noted that Camborne in the early 1920's began a decade of domination of Cornish rugby. Of the team that April day full back George Rogers, wing Reg Parnell, centres Phil Collins & Leonard Hammer, fly half Rafie Hamblin, prop Bob Warren and back row Walter Mayne are still regarded as among the greatest players ever to don the Cherry & White jersey.
Camborne 's finest hour against the tourists
On 11th April 1927 Camborne crowned a great season by recording their solitary victory against the star studded Crawshays XV triumphing in front of a big crowd at the Recreation Ground.
All the scoring took place in the first half with George Rogers kicking a monster penalty goal, prop Jim Carter crashing over from a lineout and finally powerhouse Bob Warren storming over from 25 yards for the match winning try that Phil Collins converted.
Folklore has it that the Crawshay's international full back Ozzie Male didn't make too much of an effort to stop the on rushing Warren preferring to stay in one piece for his own safety and ensuring he was able to continue his international career. If so the choice paid dividends as he went on to captain Wales in the following season!
After the game Captain Crawshay in his speech generously heaped praise on the Camborne players, giving special mention to the play of full back George Rogers and considering the performance of centre Phil Collins the finest he had seen.
Captain Geoffrey Crawshay's ethos and talented teams
Geoffrey Crawshay (pictured below) was a remarkable rugby pioneer with a goal of selecting a handful of current international players and combing them in a team with talented youngsters from across a range of Welsh rival clubs.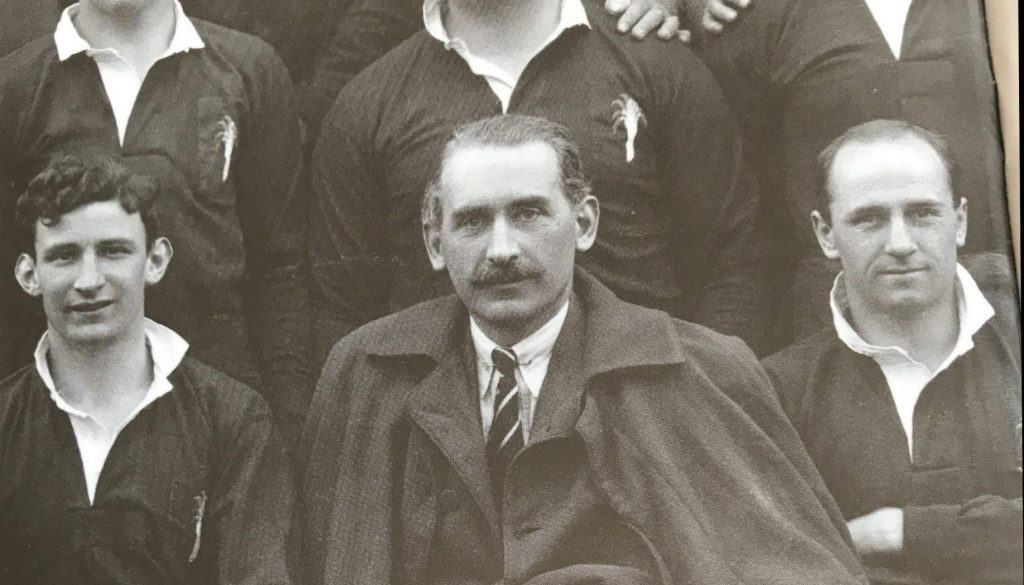 He led his team on tour for more than 30 years from 1922 – 1954 always adorned in a green cloak.
Players in his teams were to come together not just to play an exciting brand of rugby but also to enjoy the character building, life skills and camaraderie that only a rugby tour can offer.
The game at Camborne in April 1939 was to be the last prior to WW2 and in the years following their 1927 triumph the closest the Cherry & Whites had come to a follow up victory was a scoreless draw in 1933.
During this pre war period the annual matches between the Clubs always drew large crowds after the visitors marched from the Commercial Hotel (where the Card Factory shop now stands) to the Recreation Ground. Camborne often included a sprinkling of top guest players from other Cornish clubs to bolster their ranks against their illustrious opponents.
Post War Resumption
Crawshays restarted their tours in 1950 with the matches now taking place in early season during September. If anything these Welsh teams included even more talented players and Camborne had to raise their game for every visit.
England full back John Collins was now a star performer in the Cherry & White jersey and he soon earned the praise of Geoffrey Crawshay as his father Phil had previously.
Camborne did extremely well to hold their visitors to a 6-6 draw in September 1952. The Cherry & Whites were to come close again later in the decade when they went down narrowly 13-16 in 1957 after wing Brian Symons raced over for two long range tries.
The following season 1958 saw a home defeat again by a slim margin 16-20 after John Allen, Ken Toy and the legendary Gary Harris scored tries for the Cherry & Whites.
Moving on to the 1960's Camborne suffered yet another narrow defeat by 17-24 in 1961. On this occasion the mercurial Mike Sweeney gave the Welshmen the run around serving up tries for Ivor Moyle and Mike Bowden as well as landing 4 kicks at goal.
Another narrow loss by 3-0 in 1963 was to be followed by a heavy defeat 36-0 the following season.
In September 1965 Cornwall RFU took over the fixture at the Recreation Ground for the 1st time but the Camborne connection was continued with Cherry & Whites Peter Floyd and Terry Carter paired together at halfback.
Matches between Cornwall and Crawshays usually played at Camborne were then to continue for many seasons although encounters eventually became less frequent as rugby entered the professional era.
Recent Times
Links between Camborne Rugby Club & Crawshays have never been broken with the visitors making welcome visits to take on the Cherry & Whites during our memorable centenary season (September 1977), to celebrate the opening of the Crane Park clubhouse (September 1991) and again during our 125th anniversary season (2003).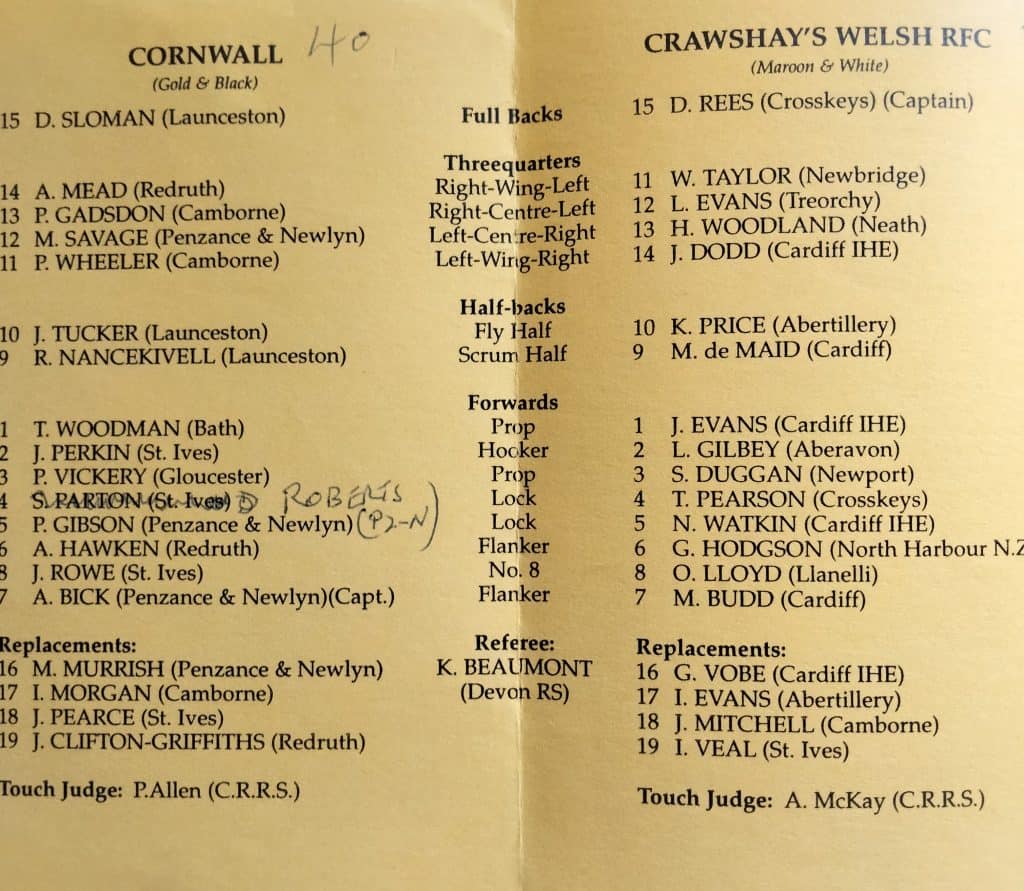 During these visits although the faces had changed and many former greats on both sides had sadly passed on the spirit and mutual respect of members of both Clubs endured. We can all raise a glass to the memory of Captain Geoffrey Crawshay and thank him for that!
Martin Symons. With grateful thanks to Alan Thomas & the late Phil Rule (authors of Camborne Rugby Club 1878-1978 'The Story of a Proud Club')