POST-MATCH TWICKENHAM INTERVIEWS – PART 1
By Bill Hooper
Following both the men's and women's finals I was able to catch up with some of the major players from both games.
First of all I spoke with Matt Shepherd on a day which was understandably very emotional for him. I asked him first up how many wins in the finals. "That's win number four, not bad from eight finals.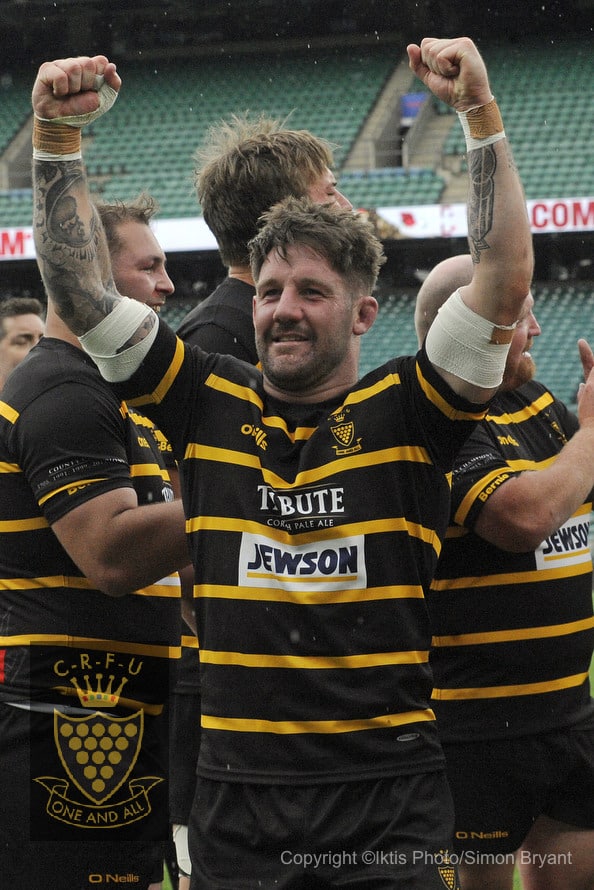 "I wasn't alone out there today, Dad was there with me and the boys have looked after me, to have great team mates around you is so reassuring. They had collection to buy me some new boots, something Bernie did every time Shep played at Twickenham, and for his name to be put on the match day shirts, that was such an amazing surprise, it was overwhelming.
Asked about the fast start. "We won the game twice, in the first and eighty minutes, we knew it would be hard against this Cheshire side but we found a way to get the win.
Asked about the half-time huddle. "Kyle told us that we would face a big response from Cheshire and it came, but we managed to snuck in there and take points when the opportunities came along, I thought our game management was excellent.
Next up the victorious Cornwall captain Kyle Marriott. "That's my personal hat-trick of lifting the Bill Beaumont Cup as captain at Twickenham, a very pleasing stat for me. It's been an amazing day, what a team, what a squad , what a county.
I asked him about the start to the game. "It was a dream start but I knew this Cheshire side weren't going away. I said to the boys before the game, we will find ourselves with our backs against the wall and we will need to dig deep and we showed that in periods during the second half. When we lost Will (Trewin) to the sin-bin we needed to show some control, we didn't always do it but I feel we managed Jack's (Simmons) sin-bin far better.
Despite conceding four tries, some of Cornwall's defending at times was heroic. "I thought we defended far better today than in the previous two games, we made them play the phases and made them play extra ones which brought some turnovers for us.
Asked about the big call near the end when with a penalty just 5 meters out, he opted for the points. "It was a big call, I felt that to have that cushion of six points would make them have to play and I was confident in our defence, and that's how it played out they pressed and left half a gap for Mikey (Austin) to motor through for the clinching score.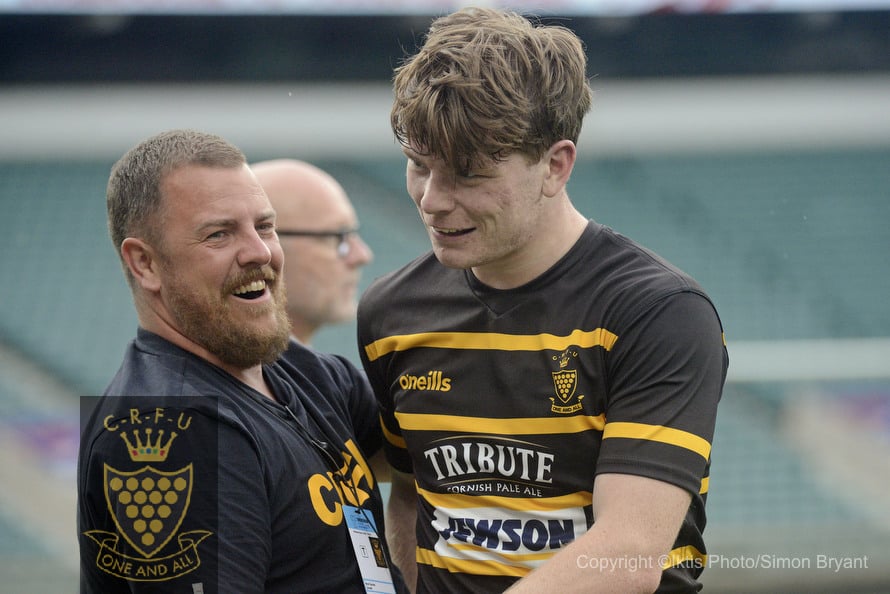 I then caught up with assistant coach Marek Churcher. "Well I think I've grown some more grey hairs after that 80 minutes, but I am getting used to that now. I couldn't be prouder of the lads today, they stuck at it for the full eighty. We had a great start but we knew Cheshire would come back at us given the talent they have, our patience in both attack and crucially defence won us that game, also our decision making and the way we managed both sin-binnings, that was key.
"This is an historic day for Cornish rugby, to hold three trophies at the end of a season is a remarkable achievement, the bar was set by our Under 20s and both the senior squads have risen to the challenge.
Marek was full of praise for the Cornish supporters. "Their support goes a long way in helping us when the going gets tough, to have that 16th man behind you gives the boys that little lift, they sang us home."
Finally I grabbed a few words from Cornwall's final try scorer Mike Austin. "I thought I'd never get there it felt like 110 meters the try-line just didn't come quick enough but the crowd got me there. I just put my head down and went for it, opportunities to score at Twickenham don't come around too often.
Asked how he viewed the game. "We did let them in a bit after half-time but it's an 80 minute game and I knew we could find something to see us home.