CRFU President John Sumnall delivered his address to the Annual General Meeting held at Bodmin RFC on Wednesday 29th June.
President's Address 2022 AGM
The Rugby Family of Cornwall have probably witnessed one of the most remarkable seasons in
its history by winning three major trophies and finally returning to a full season of rugby after
three years of the wretched pandemic.
It was a glorious afternoon at Twickenham when the Cornwall Women's XV collected their
Division 3 Trophy from Gill Burns, who gives her name to the Competition, to be followed by
the Men's XV who retained the Bill Beaumont Cup Division 1 by their magnificent win against a
fancied Cheshire XV. This, of course, followed the outstanding season that the Cornwall U20
XV had experienced by winning the Jason Leonard Cup Division 1 on 1st May. Many, many
congratulations to all the players and all those that helped to make the representative season so
successful for Cornwall.
However, next season we will certainly have to consider our level of commitment to
Representative Rugby as the present RFU financial situation will certainly continue to greatly
reduced funding from their steam which entails raiding our reserves once again and this cannot
be repeated next season. A reduction in certain aspects such as hospitality, stash and some other
expenses will have to be considered. The value of our sponsors is now so important as we could
not have considered fulfilling our successful exploits in representative rugby and we must thank
St Austell Brewery, O'Neills, Jewsons, Kelsall Steele Investment Services Ltd, The Eden Project and Trelawny's Army. May I add that, in keeping with its history, the CRFU is totally committed to Representative Rugby at all levels and will continue to give every support possible.
Everything is not representative rugby in Cornwall as we have a proud and largely successful
community game that fosters the Rugby Family of Cornwall. Every Saturday, wherever possible,
I visit a different Club to watch their match and chat with their players and their wonderful army
of volunteers. At these visits I recognise the good will and camaraderie that these volunteers
engender continually striving not only to improve their Club but to meet the day to day problems.
Without them there would be no Family and the CRFU must thank them. Most Clubs are in good
health and when visiting I always seek out a Committee Member to enquire their needs and it is
pleasing to note that members of the Management Board can generally help with their problems.
Congratulations to the following Clubs for winning their respective leagues: Wadebridge
Camels, Pirate Amateurs, Bodmin and St Ives and thank you to all other Clubs, men and women
who gave 30 guys a game of rugby on a Saturday not forgetting the many Age Group teams. We
now look forward to the new league structure in men's rugby that has brought some 2nd XVs into
the leagues.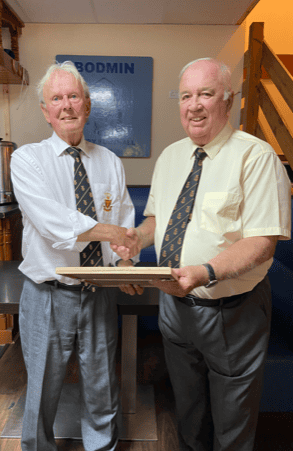 There is one aspect of rugby in Cornwall that is not satisfactory and that is the increase of abuse
of referees which is taking place at all levels. All Clubs are in a position to manage this
disgraceful behaviour as there is normally a club member near by that will have witnessed the
event. It must not be allowed to continue and Clubs must take steps to foster a culture of
reporting such behaviour. We are losing referees and very simply we cannot afford to do so.
Finally, may I thank the members of the Management Board and other CRFU Committee who
give so much to ensure that rugby in Cornwall is in good shape after taking a battering from the
pandemic. Moreover, a special thank you to those that are stepping down: Ross Tucknott as
Women and Girls Chairman (3 years), Terry Williams as Secretary (4 years), Chris Jewels as
Competition Chairman (11 years), Terry Carter as Chairman of both Representative Rugby (1
year) and Men's Selectors (22 years) and finally David Martin as Facilities Manager who has
also held probably every position in the CRFU over 41 years.
Following the normal business of the AGM the following presentations were made by the President to out-going officers;
Honorary Vice President of the CRFU, Chris Jewels
Life Member of the CRFU, Terry Carter and Ben Hilton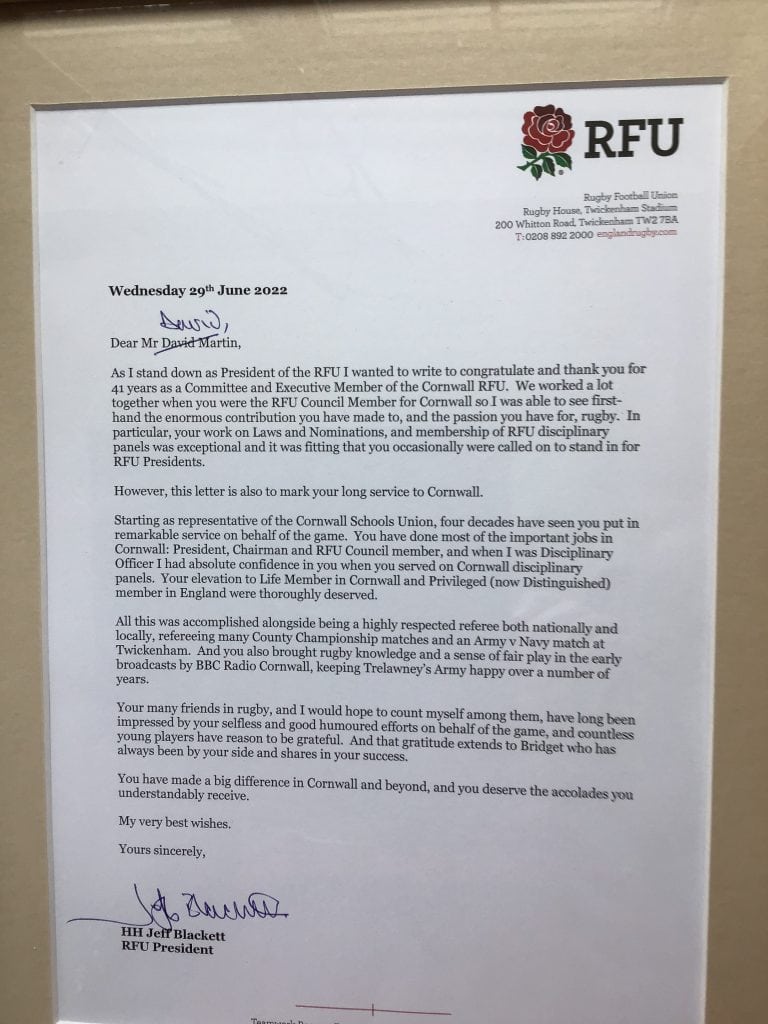 Presented with a framed letter from the President RFU His Honour Jeff Blackett, David Martin, David began as Cornwall Schools representative and during the 41 years that followed he was made a Life Member, held the posts of President, Chairman, RFU Council Member, Chairman of Discipline, Facilities Manager and Nominations Chairman. Whilst the Cornwall representative on the RFU Council he sat on the Laws Committee, Nominations Committee and represented the President on occasions. David was a very well respected referee refereeing at senior and major matches.
Thanks were also expressed to our out-going Hon. Secretary Terry Williams and also Ross Tucknott, Women and Girls Committee.
We welcome Mrs. Jane Bell as out new Hon. Secretary, Paul Williams as Chairman of Competitions, Kevin Thomas as Chairman of Representative Rugby and Chairman of Selectors. Tom Magill will be the new contact regarding Facilities.